I'm getting so excited!
The QUEEN BEE MARKET
is just ONE month away!
Well, I'm so glad you asked ;)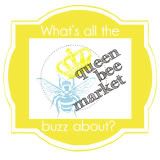 The Queen Bee Market
November 12th (4-9pm)
and 13th (9am-4pm)
The Del Mar Hilton, Grand Ballroom
15575 Jimmy Durante Blvd.
Del Mar, California
... ... ... ... ... ... ... ... ... ... ... ... ... ... ... ...
If you LOVE shopping for
home decor, jewelry, custom children's clothing, accessories, journals, etc., the list goes on and on and on...
YOU will LOVE it at The Queen Bee Market ;)
This year, I will have lot's and lot's of clay goods available, for example:
And so much more :)
and
Facebook
page, where there's a lot of excitement going on!
xoxo